Full Day Trips
Our tours go as soon as we have enough people signed up. They are not offered on a schedule. We leave for tours at 8:30 or 9:00AM and pick you up at your hotel in our vans (in most cases). Our drivers are our guides and they are safe, knowledgeable and dedicated to giving you a great day!

Our tours are based on history, science, and our reverence for beauty. We have full insurance and permits with the state and federal governments. We have been offering excursions from Santa Fe since 1998, making us the oldest and most respected tour company in New Mexico.

Here is a menu of our Full Day Tours. We also offer Half Day and Custom Tours.
Taos Tour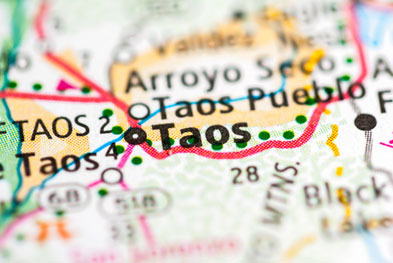 Our Taos tour offers a vivid experience of the Southwest; stunning scenery, rich artistic traditions.

You may see the dramatic Rio Grande Gorge, old Taos, and other stops on the way up and back. Usually we go to Taos on one route and back to Santa Fe on another (weather and time permitting).

8 hours
$180. per person





The Jemez Super Volcano
Just west of Santa Fe lies a huge slumbering volcano that created a stunning landscape after its last eruption a million years ago. Crowned by a vast caldera (crater) and beautiful mesas formed with sculpted ash that today hold beautiful ruins of early Pueblo culture, and the legacy of the Manhattan Project at Los Alamos.
Join us for a day of exploring the Jemez Mountains with visits to:
- all managed by the National Park Service. We'll explore an amazing spread of history and scenery, enjoy great food and enjoy one of the most significant and beautiful places in the American West.
7 hours
$150. per person.
Chaco National Historic Park
This ancient site lies three hours from Santa Fe in the beautiful San Juan Basin. This is one of the most scenic and unusual trips we offer. Chaco is a place for people with a deep interest in the Puebloan culture and archaeology as these are the most significant early Puebloan ("Anasazi") ruins in the Southwest.

The long but beautiful drive to Chaco passes through desert landscapes and brings us to this remote National Historic Park and World Heritage Site. A ten mile dirt road may be slow and bumpy. We walk through the remains of beautifully crafted sandstone pueblos which were abandoned around the year 1300. Aside from the antiquities, this tour with introduce you to the Navajo people and some of the issues facing this oil rich region.


Due to the distance and staffing needs, this tour is offered for a minimum of 4 guests.

12 hours
$275. per person including box lunch
Make Your Reservations
For all our tours please call as far in advance as you are able. We do tours once we have a minimum number of people to go that day. We can do private tours as well. Tours include transportation, guide, entrance fees, water and snacks.

We are fully permitted and insured for your protection.

Call our reservation line at (505) 455-2700 and speak with LaVonne.