Half Day Tours
Our tours go as soon as we have enough people signed up. They are not offered on a schedule. We leave for tours at 8:30 or 9:00AM and pick you up at your hotel in our vans (in most cases). Our drivers are our guides and they are safe, knowledgeable and dedicated to giving you a great day!

Our tours are based on history, science, and our reverence for beauty. We have full insurance and permits with the state and federal governments. We have been offering excursions from Santa Fe since 1998, making us the oldest and most respected tour company in New Mexico.
Bandelier National Monument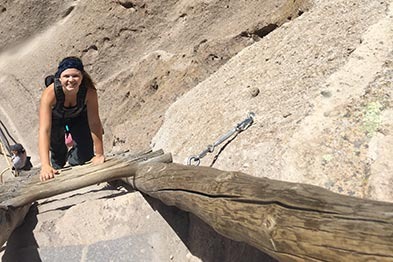 The Pueblo people settled in the sculpted canyons and mesa tops of the Pajarito Plateau west of Santa Fe about 900 years ago. This amazing volcanic landscape is among the most beautiful places in the Southwest.

On this trip we visit a National Monument (managed by the National Park Service) which holds cliff dwellings and expansive ruins of Pueblo villages dating to the 1200s. The drive to and from Bandelier is beautiful as we cross the Rio Grande near San Ildefonso Pueblo and have some extra stops that will amaze you. With our permit we can drive you right to Monument Headquarters so you can skip the shuttle!

This is our most popular trip and kids love it. We take an easy walk which we guarantee you will find uplifting and unforgettable.

5 hours
$125.00 per person
New Mexico Sampler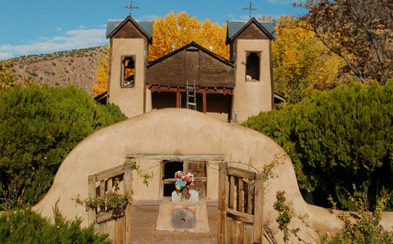 Enjoy a genuine taste of the Spanish and Pueblo cultures of New Mexico and the amazing landscapes north of Santa Fe.

We'll visit the Spanish village of Chimayo with its legendary church, local arts, and beautiful setting. We'll travel across the Rio Grande and discuss the Pueblo culture and see some cliff dwellings. From a high cliff we'll overlook breathtaking views of the region.

It's a perfect loop.

4 hours
$120.00 per person
Deluxe Sampler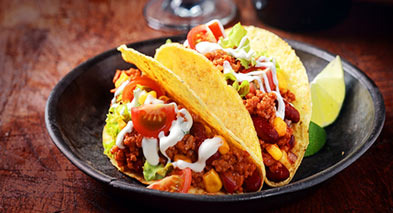 We'll go to the places mentioned above in the New Mexico Sampler, but we'll also visit one of New Mexico's most distinguished New Mexican native food restaurants in a beautiful rural setting for lunch. Enjoy beer, margaritas or a "Chimayo cocktail." Experience New Mexican food that is unique to northern New Mexico. We know where to take you for the most authentic food in a genuine setting.

5 hours
$130. (lunch price not included)
Abiquiu and the Georgia O'Keeffe Country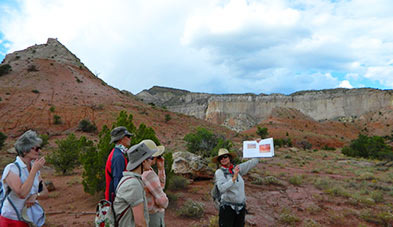 In the Chama River Valley lies an astounding landscape of villages, mountains, desert rivers and colorful cliffs made famous by artist Georgia O'Keeffe. On this trip we'll pass the picturesque village of Abiquiu, and the visit legendary Ghost Ranch where O'Keeffe painted the vibrantly colored cliffs over the last 40 years of her life. The scenery is stunning and the rich stories in the landscape are captivating. A true sense of old New Mexico.

The scenery on this trip is substantially different from the other tours we offer since we enter the Colorado Plateau where very old sandstone cliffs stand in yellow, red, purple and white. This trip offers an option to shop for local art.

5 hours
$135.00 per person
Pecos National Historic Park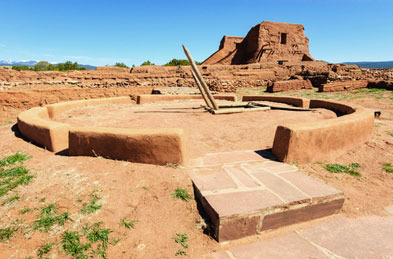 Pecos is one of New Mexico's best kept secrets. Though close to Santa Fe, few people visit this park, but those who do have an incredible, memorable experience. This beautiful historic and prehistoric place lies north and east of Santa Fe along the old Santa Fe Trail. Here the National Park Service protects the ruins of a large abandoned Pueblo village first built around 1100 and the massive church that the Spanish compelled the Pecos Indians to build around 1620.

This park also protects an important Civil War battlefield where a decisive battle occurred in 1862. We'll see stunning views of the southern end of the Rocky Mountains where the Pecos River begins its long trip to Texas in snowcapped peaks. You will visit the exceptional visitor center endowed by Greer Garson who lived near here during her life in movies.

Take a trip few people take. Pecos is close to Santa Fe and the drive there and back is beautiful.

4 hours
$120 per person
Make Your Reservations
For all our tours please call as far in advance as you are able. We do tours once we have a minimum number of people to go that day. We can do private tours as well. Tours include transportation, guide, entrance fees, water and snacks.

We are fully permitted and insured for your protection.

Call our reservation line at (505) 455-2700 and speak with LaVonne.